October 26–28, 2018
Metro Toronto Convention Centre
Admission is free
Akin Projects is thrilled to be selling works by many of our talented studio artists at the 3e Edition Toronto International Art Book Fair. Artists from Akin King, Dupont, Lansdowne, and MOCA will be presenting a diverse collection of editioned prints, 3D art multiples, printed totebags and scarves, artist books, zines and other collectables.
Participating artists for 2018 :
Adria Mirabelli, Laura Kay Keeling, Loretta Mui, Lily Kim, Liliana Vera, Mark Liam Smith, Mia Zhou, Monique Resnick, Rebekah Andrade, Natalie Waddell, Erin Candela, Rebeccah Houston,

Edition, unique in its scope and contemporary approach, celebrates the idea of the "Multiple" and limited edition art productions. It is hosted annually in tandem with Art Toronto , Canada's largest International art fair. Officially labelled a ''book fair'', Edition is dedicated to the promotion of art book publishing and all forms of art works created in limited edition format, which opens the door to exploratory ventures and mediums. The concept champions forward-thinking projects by artists, publishers, galleries, and organizations who share a similar mission to advance and strengthen Canadian and International art book initiatives. Vendors at the fair represent a diverse cross-section of mediums and interests, as well as a wide range of locales spanning Ontario, Canada, and Internationally.
Artists Rebeccah Houston (left) and Natalie Waddell (above) work in clay and will be contributing ceramic multiples to the show.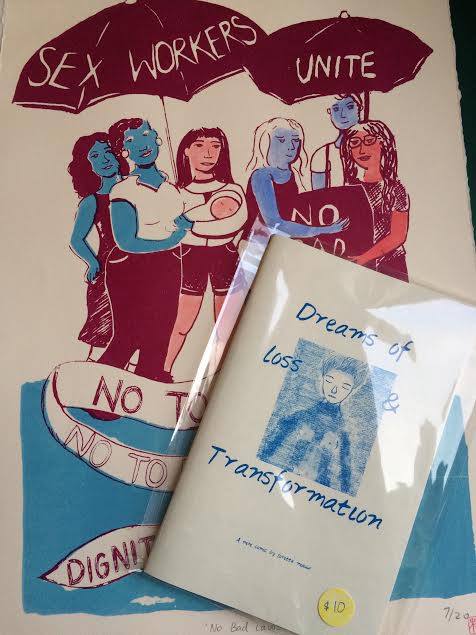 Edition is a fantastic place to find original prints like this poster-sized Risograph by Loretta Mui. Loretta is also bringing several sets of zines and t-shirts in original designs.
HOURS:
October 25, 2018 6–10pm
October 26, 2018 12–8pm
October 27, 2018 12–8pm
October 28, 2018 12–6pm
editiontoronto.com
arttoronto.com
akincollective.com
akinprojects.org
Limited edition archival giclee print (right) by Mark Liam Smith 2018.